10 Reasons to Visit The Buffalo History Museum This Summer
July 27, 2022 • By Brian Hayden
 
Make history with us and rediscover our restored,  reactivated and re-energized museum this summer. Experience the story of our remarkable city at our museum, where we've debuted four new exhibits, reclaimed historic spaces, and brought back some of your favorite events. Explore the top 10 reasons to visit The Buffalo History Museum below:  
1. Continuum 
 
Discover more than 200 years of our region's history in Continuum: A History of Erie County. This marquee exhibit celebrates our county's bicentennial and showcases some of our signature artifacts, including the gun used to assassinate President William McKinley, the cornerstone for the Jewish colony on Grand Island that never came to be, and  several "Little People" manufactured at Fisher-Price.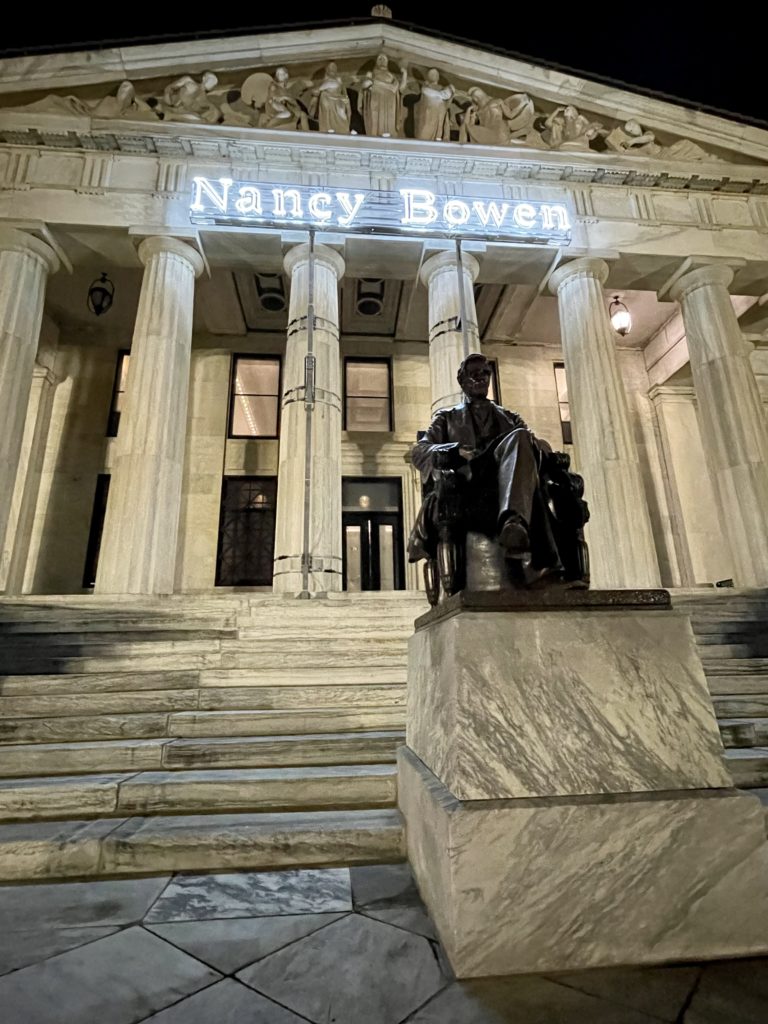 2. Hodinöhsö:ni' Resurgence: Marie Watt, Calling Back, Calling Forward 
Renowned Seneca artist Marie Watt and a co-creative team are testing the possibilities of Indigenous "resurgence," the action of reestablishing Indigenous power and presence, at our museum. At the center of the new exhibit  are a selection from Watt's diverse beadworks, textile works, and sculpture, as well as important objects from Seneca history. The exhibit also includes a 24-foot neon sign on our Museum's exterior that features the name of Nancy Bowen, an Indigenous woman who was tried for murder in Buffalo nearly a century ago, which invites us inside to learn her story.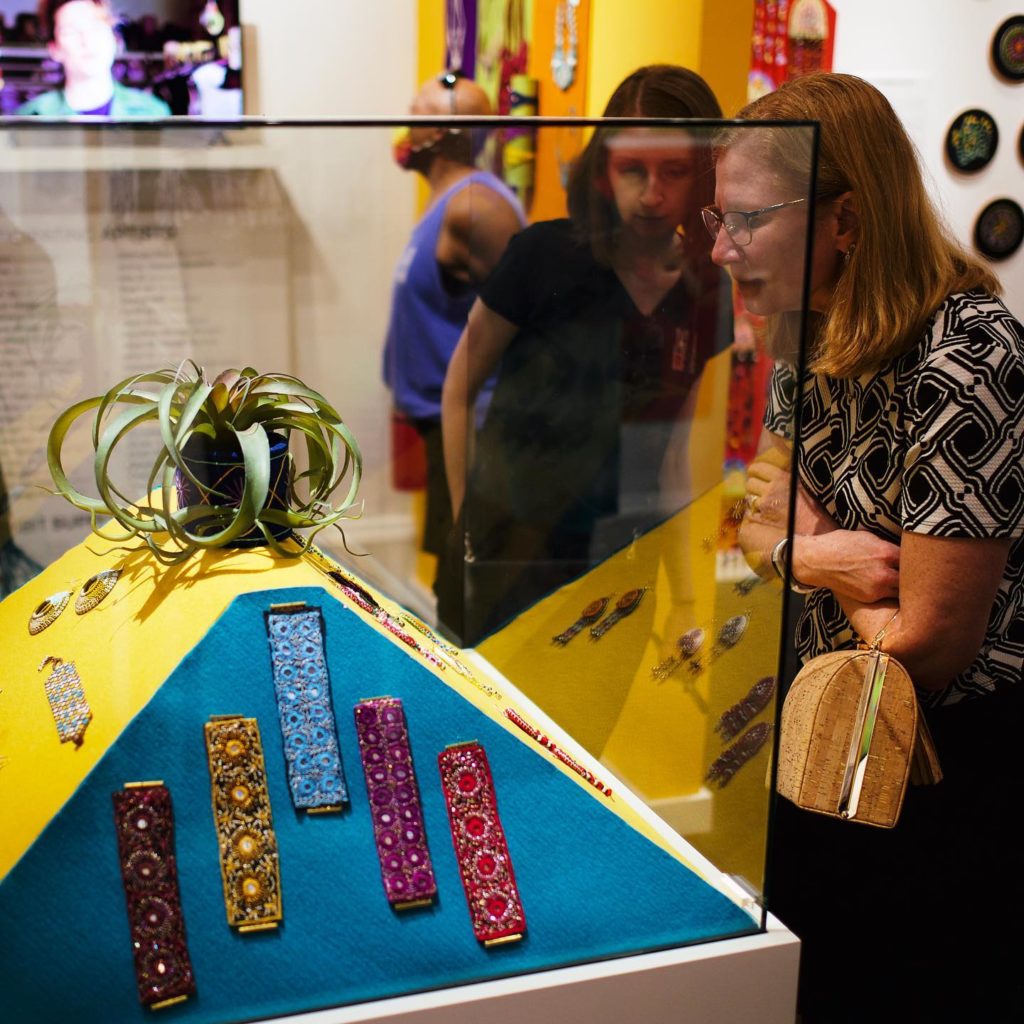 3. Creative Journeys: Celebrating the Art of Refugee Women in Western New York 
 
Experience the artistic and creative talents of some of Buffalo's newest residents at this exhibit by Stitch Buffalo, a not-for-profit organization that teaches refugee women stitching and embroidering skills. Creative Journeys: Celebrating the Art of Refugee Women in Western New York explores the textile traditions these women carried with them from all over the world, including Bhutan, Burma, Nepal, Thailand, Egypt, Afghanistan, Pakistan, Peru, Bangladesh, and Somalia.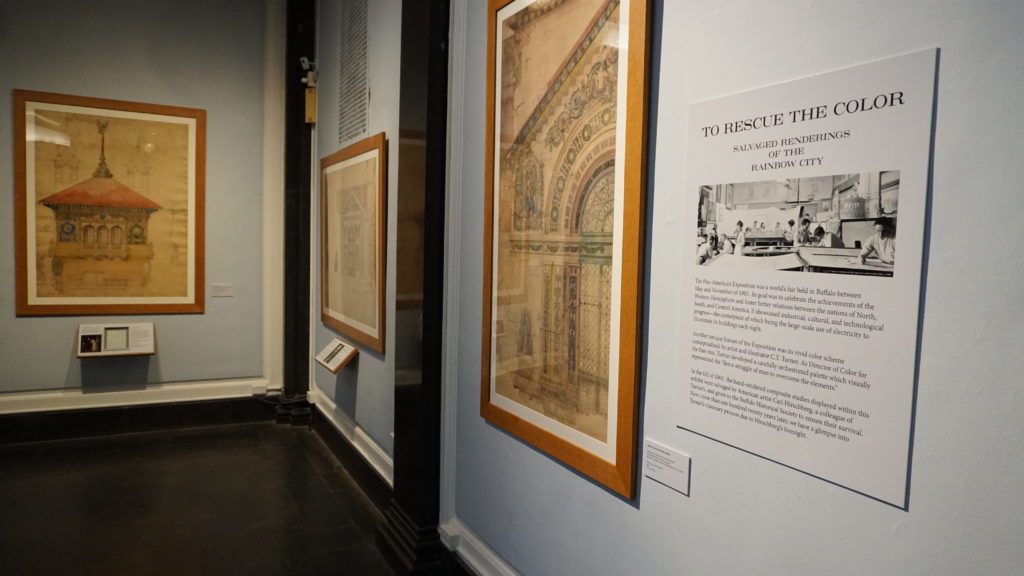 Photo by Jim Divastes/WIVB
 
4. To Rescue the Color: Salvaged Renderings of the Rainbow City 
 
See the Pan-American Exposition in a whole new light through the colorized renderings on display in our State Court in To Rescue the Color: Salvaged Renderings of the Rainbow City. These renderings, created by the exposition's director of color, C.Y. Turner, were nearly lost to history before artist Carl Hirschberg – a colleague of Turner's – salvaged them, recognized their historic importance, and donated them to us to ensure their care. We are thrilled to showcase them after gradually restoring them over the last several years.  
 

5. Restored Spaces 
 
Walking downstairs to our lower level for the first time in a few years? You're in for a surprise. The former Street of Shops has been transformed into the Penfold Portico, a room that honors architect George Cary's original design for the 1901 Pan-American Exposition building.  
 
 
6 . Pay-As-You-Wish Admission
That's right! Pay-as-you-wish admission is here all day, every day at the museum. Our recommended admission is $10, but you can pay whatever you wish to see our exhibits and experience Buffalo's history.  
 


7. Party on the Portico  
 
Join us for the season finale of our signature summer concert series, Party on the Portico, on August 19! Enjoy music from Vitamin D and Vinnie DeRosa on our back portico overlooking beautiful Mirror Lake and Delaware Park. This event is  21 years and older and each $20 ticket includes a complimentary drink and admission to our exhibits. Purchase tickets here.  
 
 
8. Late Wednesdays 
 
Stay late with us every Wednesday! We are open from 10 a.m. to 8 p.m. on Wednesdays – perfect for stopping by before Shakespeare in Delaware Park or grabbing a bite to eat in the Elmwood Village. And save the date – our Wednesday night lecture series, which features a variety of speakers who share stories from our region's rich past, returns on September 7th  from 6 to 8 p.m.  
 
9. Pan-Am Walking Tours 
 
Did you know that our museum was originally built as the New York State building for Buffalo's 1901 Pan-American Exposition? Join us for a monthly walking tour on the grounds and neighborhood surrounding our museum to learn more about this pivotal moment in our city's — and country's history. This summer's two remaining tours are on August 7 and Sept. 4. Learn more.  
 
10. Antique Car Show 
 
Our annual Antique Car Show is back at the Museum on August 7 from 9 a.m. to 3 p.m.! Explore a variety of vehicles made right here in Buffalo against the historic backdrop of our museum. Learn more. 
 
 
Other Posts