Happy Hour History Series Returns March 1
February 24, 2023 • By Brian Hayden
Buffalo, NY – Feb. 23, 2023 – The Buffalo History Museum's Wednesday night program series, "Happy Hour History," will return for the spring on March 1 at 6 p.m.
The lecture and event series will feature documentary screenings and historians speaking on a variety of topics. Beer and wine will be available for purchase at each event. Admission for the program series is $5 per event (unless otherwise noted), and free for members. On Wednesdays, each program starts at 6 p.m. and the Museum will remain open until 8 p.m. Happy Hour History is made possible through the support of the Charles D. and Mary A. Bauer Foundation, the National Endowment for the Humanities, and Humanities New York.
3/1/23: "Civil War Bands and Bandsmen" with Mark Jones ($5 admission)
This presentation will include a discussion about bandsmen and bands of the Civil War period from both sides of the conflict. Mark Jones, music historian and collector of antique musical instruments, will showcase many items used by Civil War musicians and play an over the shoulder tuba from that era.
3/8/23: Buffalo International Jewish Film Festival Opening Celebration: The Levys of Monticello ($10 admission)
The 38th Annual Buffalo International Jewish Film Festival Opening Celebration will include a film screening of The Levys of Monticello. This documentary film shares the little-known story of the Levy family, which owned and carefully preserved Monticello for nearly a century – far longer than Jefferson or his descendants. The evening will also feature a conversation with Dr. Maxine Seller, professor emeritus from the University at Buffalo.
Link to tickets here
3/15/23: "Buffalo Irish: Words and Music" with Tyler Bagwell ($5 admission)
Join Tyler Bagwell, musician and music historian, for a musical and poetic review of Irish Buffalo's contribution to the Western New York story over the last two centuries. Learn more about key people and events from Buffalo's rich Irish history, from Kitty O'Neil and The Fenian Invasion to Chauncey Olcott's world famous song, "When Irish Eyes are Smiling."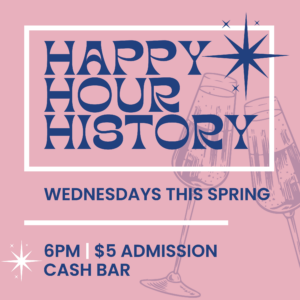 3/22/23: "Wheels of Power: The Men and Machines That Harnessed the Niagara River" with Rich Szczepaniec ($5 admission)
How does water flowing from the Niagara River transform into electricity flowing into your house? Join Rich Szczepaniec, Director and Treasurer of the Tonawanda Kenmore Historical Society and Museum, for a remarkable story of vision and engineering dating back to the 18th century.
3/29/23: "William Wells Brown: Abolitionist Icon" with Patrick F. Ryan ($5 admission)
A former enslaved person turned orator, William Wells Brown may not be as recognizable as abolitionist figures like Frederick Douglass, but in the 1840s, he was one of the major players of the anti-slavery movement. Brown attained unimaginable fame and became the first African- American to be published as both a novelist and playwright. Join Patrick F. Ryan, Programs & Education Coordinator at The Buffalo History Museum, for a closer look at this inspiring historical figure.
4/5/23: "An Evening of Buffalo Baseball Storytelling" ($5 admission)
 Enjoy an evening of storytelling about the history of baseball in the Queen City. Join baseball historian Paul Langendorf and Brian Martin, co-founder of the Centre for Canadian Baseball Research and a member of the selection committee for the Canadian Baseball Hall of Fame, for this retrospective look into Buffalo's baseball teams, players, and ballparks.
4/12/23
Program to be determined (details to follow)
4/19/23: "The John Kam Malt House & Buffalo's Malting History" with Ethan Cox  ($5 admission)
A look back into Buffalo's rich history of beer and brewing. (More details to follow)
4/26/23: WNED Screening: Frank Lloyd Wright's Buffalo (Free)
Architect Frank Lloyd Wright once called Darwin Martin, an unassuming Buffalo businessman, his "best friend." This WNED PBS documentary, narrated by David Ogden Stiers, reveals how Martin's three decades of support fostered Wright's career and led to some of the architect's renowned masterpieces in and around Buffalo.
5/3/23: WNED Screening: Making Buffalo Home (Free)
Buffalo's history is marked by waves of immigrants from places, such as, Germany, Ireland, Poland, Italy, Hungary, and Ukraine, and more recently, from Myanmar, Somalia, Bhutan, and Iraq. This documentary aims to help the region develop a better understanding of the shared opportunities and challenges we face together as long-time residents and new immigrants and refugees.
 
5/10/23: "A Conversation with Don Paul" ($5 admission)
 
The veteran television meteorologist will discuss all things weather as he prepares to close in on his 40th year in the Buffalo area. From unforgettable storms to the evolution of weather technology, Paul will share his favorite memories from a career of forecasting Buffalo's weather.
 
About The Buffalo History Museum
The Buffalo History Museum has been Western New York's premier historical organization since 1862. We are the keepers of the authentic stories that make our community unique. Our collections, exhibits, and programs tell the stories of the people, events, and movements that demonstrate Western New York's essential place in shaping American history.
The Buffalo History Museum is a private not-for-profit organization tax exempt under Sec. 501(c)(3) of the Internal Revenue Code. We receive operating support from the County of Erie, the City of Buffalo, New York State Council on the Arts with the support of Governor Kathy Hochul and the New York State Legislature, and from donors, members, and friends. The Buffalo History Museum is accredited by the American Alliance of Museums.
Other Posts