Artifact Spotlight: The Ararat Stone
April 4, 2022 • By Brian Hayden
On the far eastern end of Grand Island, a small roadside plaque commemorates the planned Jewish colony from two centuries ago that never came to be. Motorists driving by this stretch of East River Road, filled with apartment complexes, a cemetery, and a Radisson hotel, might easily miss this extraordinary piece of history if they weren't looking for it.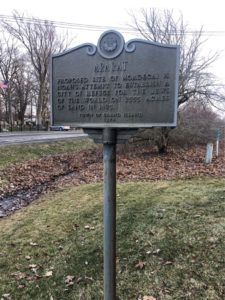 "ARARAT: PROPOSED SITE OF MORDECAI NOAH'S ATTEMPT TO ESTABLISH A CITY OF REFUGE FOR THE JEWS OF THE WORLD ON 2555 ACRES OF LAND IN 1825," the sign states.
In 1825, the largely undeveloped island drew the attention of Manuel Mordecai Noah, a politician, lawyer, and editor of a New York City newspaper. Noah's friend, Samuel Leggett, had recently purchased part of the island, and its close proximity to the Canadian border and relative remoteness made it an ideal location for such a settlement.

America was just turning 50 years old, and its promising ideal of freedom of religion inspired Noah to propose a Jewish refuge. Under his plan, Jewish U.S. citizens would contribute one piece of gold per year to build and sustain the colony, which would still adhere to U.S. laws.

To commemorate Ararat, Noah purchased a cornerstone from a marble yard in Cleveland and celebrated its arrival on Sept. 2, 1825 at St. Paul's Episcopal Church downtown (the website mappingararat.com notes that the 400-pound stone never made it to Grand Island because of a lack of adequate transportation.)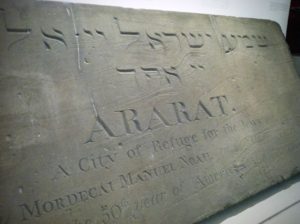 Noah's idea never materialized past the cornerstone, as other Jewish leaders criticized the idea of a colony. The stone remained in a yard behind the church, then completed a multi-decade odyssey at a variety of locations in Buffalo and on Grand Island. Noah's friend, General Peter B. Porter, initially moved the stone to his house in Black Rock after Noah requested that Porter "take care of it," according to mappingararat.com. Porter then relocated it to Grand Island, where his friend, Lewis F. Allen, built a small memorial along the river. Allen ultimately moved the stone to several more locations before donating it to the Buffalo and Erie County Historical Society in 1866, just four years after our organization's founding.
The stone remained in our collection for nearly a century before we loaned it to the Grand Island Historical Society for three decades. It was returned here in 1994 for the Neighbors exhibit and it remains on view in our Continuum exhibit, which commemorates Erie County's bicentennial.

As one of our longest-held artifacts, the cornerstone is a poignant reminder of one man's ambitious plans for our region, and of the promise of religious freedom that the United States came to symbolize nearly two centuries ago.
-Brian Hayden