Remembering Buffalo's First Juneteenth Festival
June 17, 2022 • By Brian Hayden
Judson Price still remembers the joy he felt when he saw thousands of community members fill Jefferson Avenue for Buffalo's first Juneteenth Festival in 1976.
There was "enthusiasm galore" and the city had never seen anything like it, Price, 91, said. Block after block of Jefferson featured vendors and entertainment stages filled with jazz, art, street theater, dance, and poetry slams. More than one dozen drill teams, bugle corps, and marching units promenaded down the street in the first Juneteenth Parade.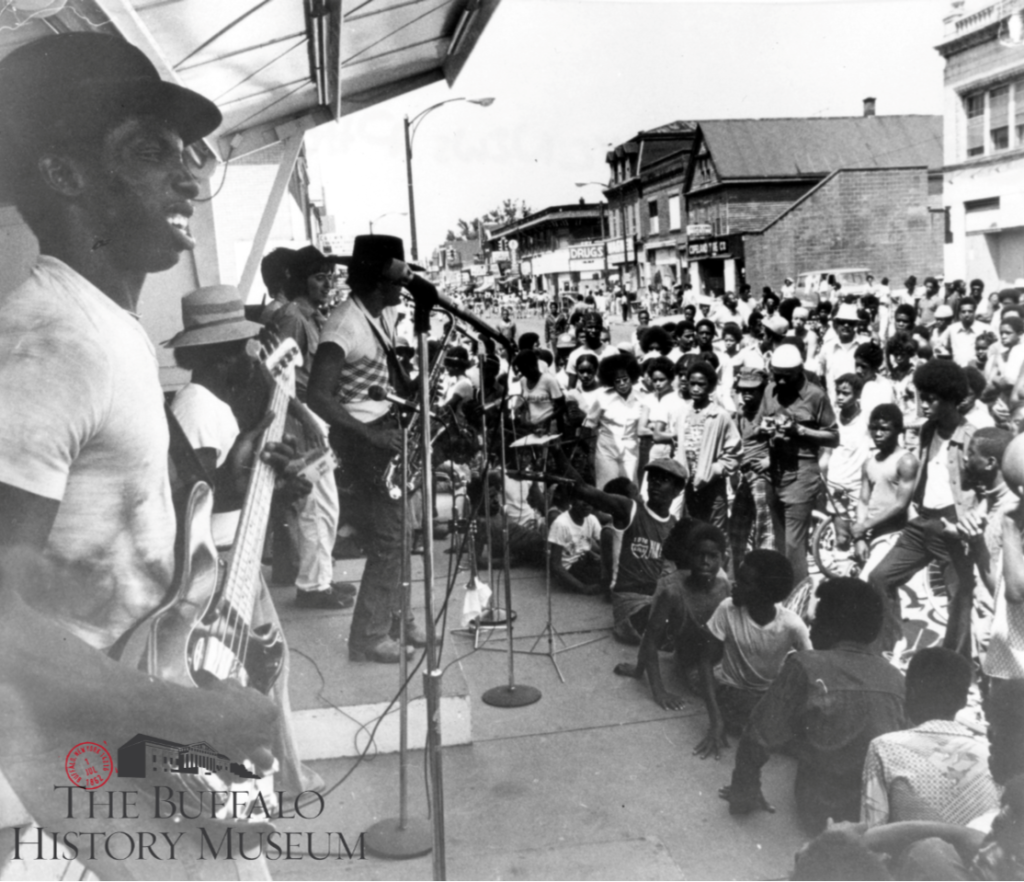 "Everybody came out feeling free and safe and happy and excited. That's the way it's been for all these years," Price said. "We never had anything like it before, something that we did ourselves that has taken off."
Buffalo was one of the first cities in the Northern United States to create a Juneteenth Festival, an event that continues to thrive 46 years later in Martin Luther King, Jr. Park. Earlier this week, five of the remaining members of the first festival's organizing committee – Price, the Rev. Eugene Pierce, Gail Wells, Douglas Ruffin, and Roosevelt Wardlaw – gathered to recall their efforts to create Buffalo's first Juneteenth Festival, and discuss the celebration's ongoing legacy.
Scheduling Buffalo's first Juneteenth a few weeks before the nation's bicentennial in 1976 was by design. The festival's first program featured an excerpt from an 1852 speech by orator Frederick Douglass, who criticized the Fourth of July as a day that reminded enslaved people of "the gross injustice and cruelty to which he was a constant victim."
"What to us is July Fourth? What do we have to celebrate?" asked Wells, echoing Douglass' speech. "We had nothing to celebrate because we were not free."
A coalition of Black leaders and community organizers brought together by the BUILD organization convened to create an alternative event that celebrated the freedom of African Americans.  The committee members settled on Juneteenth, which was not widely celebrated then, after learning more about its historical significance as the day when Union soldiers set the final enslaved people free in Galveston, Texas, in 1865.
Wells described the period of Buffalo's Black history that created Juneteenth as "The Great Awakening," an era when Black leaders across the city were implementing visionary solutions to solve problems. Buffalo's first Juneteenth came at a time when the city's Black community needed to be uplifted and recognized, according to Ruffin.
"It was a hard time, especially for Black People," Ruffin said. "You turned your TV on, you didn't see them, unless it was for a criminal offense."
The committee selected Jefferson Avenue for the first Juneteenth hoping it could serve as a catalyst for the revitalization of that district, which had entered a period of decline by the 1970s. Wells and other committee members cleaned up debris along the streetscape and painted art on vacant storefronts leading up to the celebration. "This event marks The First Day of a daily fight to revitalize Jefferson Avenue and the surrounding community," Ruffin wrote in the 1976 festival program's introduction. "The present deteriorated condition of our community leaves us deeply disappointed, and there can be no deep disappointment where there is not deep love. We feel that there is love, and we extend that hope to you through our Juneteenth Festival."
That fight continues nearly a half-century later, Pierce said. This year's festival takes place only one month after an alleged white supremacist killed 10 people at the Jefferson Avenue Tops, which was targeted because he knew the customer base was predominantly Black. The worst mass shooting in the city's history proves "we still have more work to do," Pierce said.
Yet the spirit of the first Juneteenth that brought the city together in 1976 – of hope, of healing, and of understanding –lives on in the city in 2022, said Price, who believes the festival can still serve as a catalyst for the revitalization of the city's East Side. For Wells and other committee members, Juneteenth provides a window into history that's necessary for moving forward.
"You can't create a future if you don't know what they had in the past," Wells said. "Our strength is standing on the shoulders of our ancestors. You cannot forget who paved the way. You can not forget."