Who Served Buffalo's First Wings?
July 29, 2022 • By Cynthia Van Ness
By now, everyone who has ever nibbled on chicken wings prepared in a particular style knows their origin story: in 1964, at the Anchor Bar, Teressa Bellissimo cut some wings in half, deep fried them, tossed them in hot sauce, and served them at the bar with celery sticks and blue cheese dressing. A star was born. Today, Buffalo is not just a city, it is a flavor applied to just about anything: snack foods, cauliflower, shrimp, pasta salad, mac & cheese, hamburgers, stuffed mushrooms, and even pizza.
The Buffalo affection for chicken wings is not limited to the Bellissimo version, however. The first restauranteur to promote wings in the Buffalo telephone book was John M. Young (1935-1988), who opened a restaurant in 1966 called "Wings & Things" at 1313 Jefferson Avenue. Young's wings were uncut, breaded, deep-fried, and served with his secret, tomato-based Mambo Sauce. They were sold ten for a dollar.
We can look even further back than the 1960s for evidence of chicken wings on the plates of Buffalonians. On August 16, 1894, the Buffalo Commercial Advertiser published this less-than-appetizing recipe for chicken wings.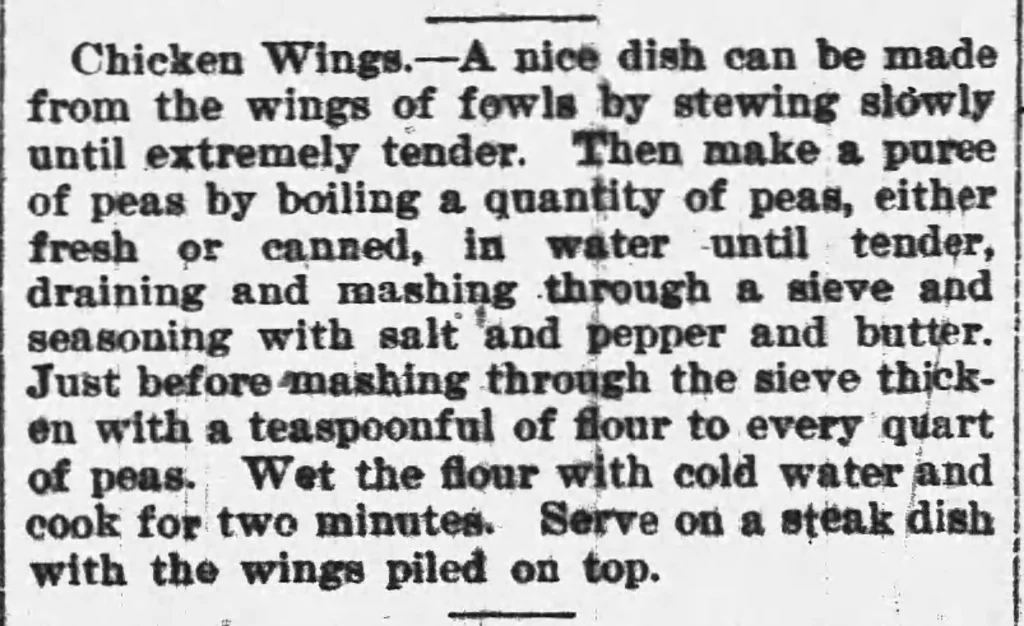 We have no way of knowing if any 19th century Buffalo households had a copy of The Modern Cook by Charles E. Francatelli (11th edition, 1858), but in it we found this wing recipe, which also sounds fairly unpleasant: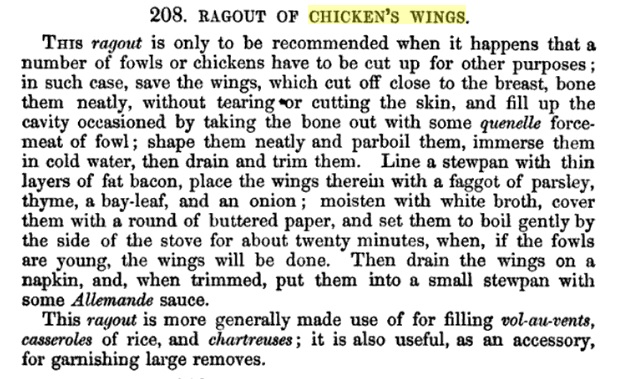 We can, however, show that Buffalo's chicken wing pedigree began at least 160 years ago. In our menu collection is a Bill of Fare dated July 1, 1857, from the Clarendon Hotel at Main & South Division: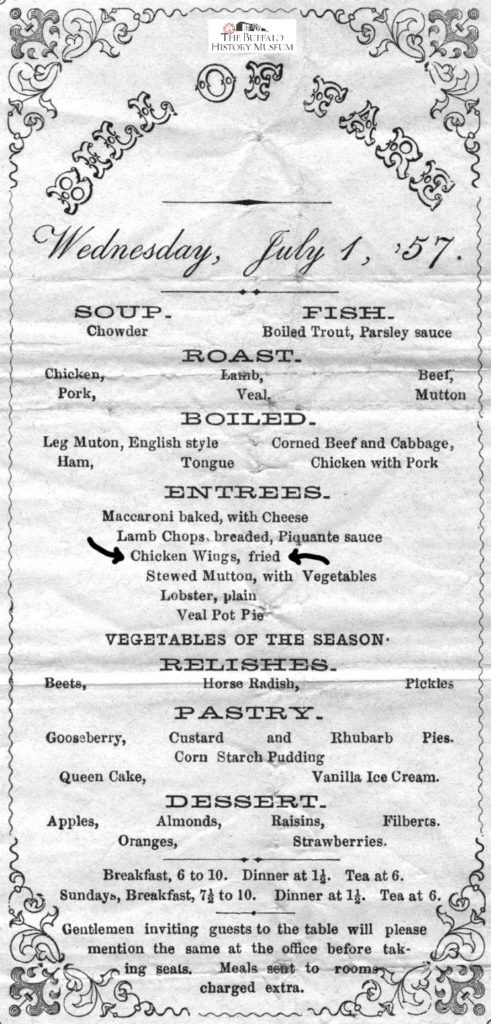 The wine list was longer than the food list. However, in small print, under Entrees, one finds not only the delightful Macaroni baked, with Cheese, but this offering: Chicken Wings, fried. Buffalo comes by its association with chicken wings honestly.
The Clarendon Hotel, shown here in an illustration from Picture Book of Earlier Buffalo,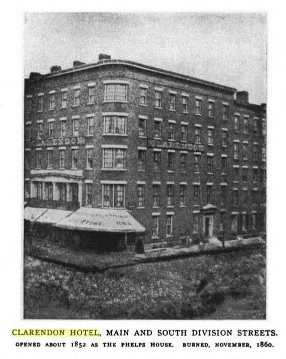 p. 157, was built in 1849 as the Phelps House. Under the new management of Captain Henry Van Allen, it was renamed the Clarendon in 1853 and described as a "first class, well kept" hotel. That year, the Buffalo Daily Republic reported, with a cryptic reference to earlier labor difficulties:
At the Clarendon Hotel, girls have been introduced as waiters, with good success. They get from $6 to $8 per month. No other of our principal Hotels has yet tried them. The proprietors think that the employment of girls will alone exempt the Hotels from a repetition of the annoyance already experienced.
Daily Republic, May 3, 1853
Also in 1853 was this episode of bravery concerning an omnibus, a horse-drawn passenger vehicle:
"An omnibus, standing at the Clarendon this morning, while the driver was attending to some baggage, started off, and proceeded down Main Street at full speed. When nearly opposite Swan Street a colored man named Jackson started out and caught the lines and stopped the team, amid the applause of several by-standers."
Daily Republic, Sept. 3, 1853
"The Clarendon Hotel served the traveling public and boarders until Nov. 10, 1860, when it was destroyed by fire. At least four guests and two chambermaids lost their lives. Today it is the site of Fireman's Park, between 1 M&T Plaza and the Ellicott Square building."
We hereby credit the Clarendon Hotel as the first known establishment in Buffalo to hire waitresses and to serve chicken wings.