The Buffalo History Museum Debuts Exhibit Featuring Renowned Seneca Artist
July 14, 2022 • By Brian Hayden
The Buffalo History Museum is pleased to present "Hodinöhsö:ni' Resurgence: Marie Watt, Calling Back, Calling Forward," which runs until October 30, 2022.
Celebrated artist Marie Watt (Hodinöhsö:ni', Seneca Nation) has roots in the Buffalo area. Her family grew up in Cattaraugus territories, now part of Seneca Nation. In this exhibition, Watt and her collaborators work to amplify the resurgence of Hodinöhsö:ni' Peoples in the region.
Inside the museum, visitors will find Watt's monumental textile works and sculptures known for their engagement with Hodinöhsö:ni' worldviews. Moreover, visitors will encounter several interventions staged by Watt and the curators that ask viewers to consider the relationship of the museum to Indigenous communities. Typical displays of Seneca objects have been rethought to underscore the absence of those objects from and, in some cases, their future return to their communities.
Additionally, for this exhibition, Watt designed a 24-foot-long neon sign on the rear façade of the Buffalo History Museum bearing the name of Nancy Bowen (Hodinöhsö:ni', Cayuga), who was the subject of an issue-laden homicide trial in Buffalo in 1930. Watt's neon sign invites us into the museum to learn about Bowen and Hodinöhsö:ni' life from a Hodinöhsö:ni' perspective. Moreover, it furthers Watt's interest in neon signage as an opportunity to spark learning by bringing important words and names from Indigenous languages and experiences to vibrant attention. Bowen's name, as a glowing marquee, may bring us to recall Indigenous activists who defended her name in 1930, or call us forward in time, to the contemporary #sayhername movement.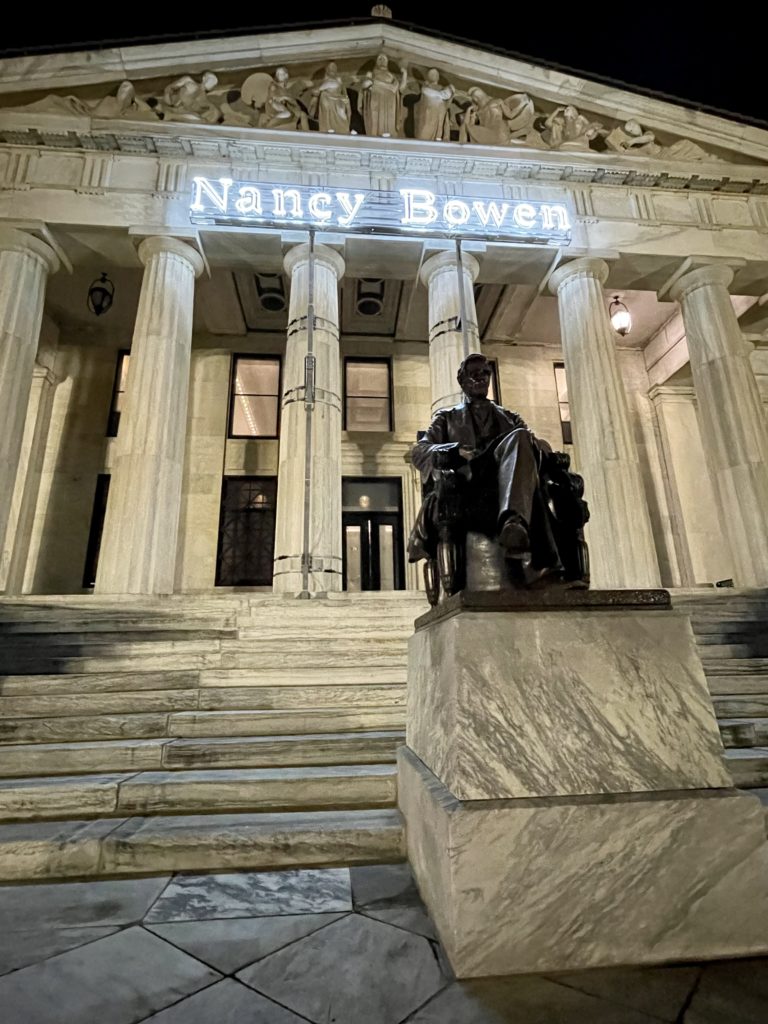 The exhibition also reaffirms the museum's commitment to transforming its relationship with the Hodinöhsö:ni'. "Resurgence" reflects the museum's desire outlined in its new master plan to co-create content and experiences with people of diverse backgrounds who have different perspectives on history and contemporary issues. Exhibit collaborators include Marie Watt (artist), Jason Vartikar (curator), Dr. Joe Stahlman (consultant), Dr. Jordan Reznick (curator), and The Buffalo History Museum (institution).
"I'm hoping this is the beginning of an ongoing conversation between The Buffalo History Museum and other Hodinöhsö:ni' artists and craftspeople," Marie Watt said. "It's an opportunity to talk about and amplify the long history of Hodinöhsö:ni' in this area."
"Marie Watt's 'Resurgence' fosters a renewal and deepening of the museum's longstanding relationship with Indigenous peoples," Buffalo History Museum Executive Director Melissa N. Brown said. "This exhibit embodies the museum's mission to work with more diverse community partners, to share their stories, and generate increased awareness, understanding, and appreciation."
"Working with Marie Watt and The Buffalo History Museum has led to one of the most unique collaborations that I've had the honor to take part in," said Dr. Joe Stahlman, director of the Seneca-Iroquois National Museum and a consultant on the exhibit. "I have learned a lot about myself, the variety of Indigenous perspectives on a number of matters, and the sense of stewardship at The Buffalo History Museum … it is much deeper than I thought."
The Buffalo History Museum is open with pay what you wish admission, Wednesdays 10 a.m. to 8 p.m., Thursdays through Saturdays, 10 a.m. to 5 p.m., and Sundays, noon to 5 p.m.
About The Buffalo History Museum
The Buffalo History Museum has been Western New York's premier historical organization since 1862. We are the keepers of the authentic stories that make our community unique. Our collections, exhibits, and programs tell the stories of the people, events, and movements that demonstrate Western New York's essential place in shaping American history.
The Buffalo History Museum is a private not-for-profit organization tax exempt under Sec. 501(c)(3) of the Internal Revenue Code. We receive operating support from the County of Erie, the City of Buffalo, New York State Council on the Arts with the support of Governor Kathy Hochul and the New York State Legislature, and from donors, members, and friends. The Buffalo History Museum is accredited by the American Alliance of Museums.
– 30 –