Why is blue cheese served with wings?
July 28, 2023 • By Brian Hayden
New evidence uncovered by The Buffalo History Museum might explain why The Anchor Bar chose to serve blue cheese and celery with its first plates of wings nearly six decades ago.
Celery and blue cheese have been a fixture of wing orders served at restaurants in Buffalo for as long as most can remember. Museum researchers discovered a piece of food history that may explain the origin of that pairing while collecting old menus of The Anchor Bar, which first served Buffalo-style wings back in 1964. An appetizer called blue cheese stuffed celery existed on a menu of the restaurant that was printed around the same time that Teressa Bellissimo first created the now world-famous snack.
On that particular menu, which Library Director Cynthia Van Ness traced to the mid-1960s, the city's beloved wings aren't even on the menu yet. But the appetizer, which cut down on the heat of anything it was served with, could explain why Teressa Bellissimo chose those foods to serve with her early plates of hot wings – and why they've accompanied most orders of wings in Buffalo ever since. Even as ranch dressing became the preferred side for many U.S. wing restaurants in recent decades, Buffalo has always sworn by its blue cheese – just as The Anchor Bar first plated it all those decades ago.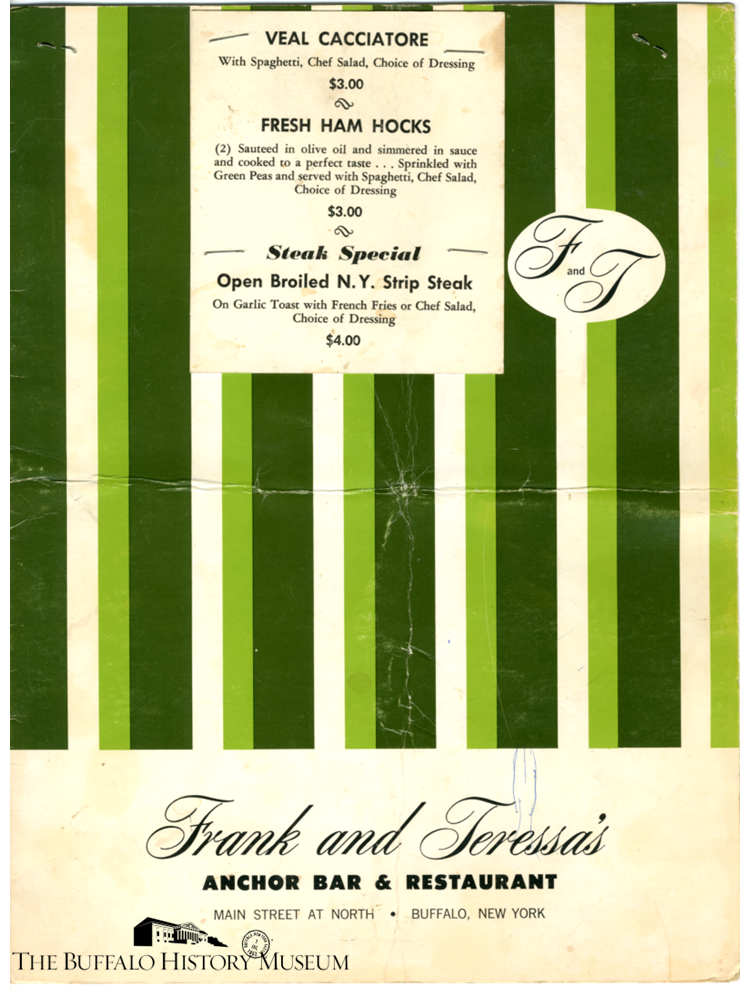 Van Ness is embarking on a restaurant menu collecting initiative in order to create a stronger record of Buffalo's food history. She has since collected nearly a dozen Anchor Bar menus from 1955 to 2010 that trace its journey from a humble neighborhood restaurant to a Mecca for wing lovers from around the world.
"Everybody has food traditions, and if you aren't documenting food traditions, you're missing a big part of your city's history," Van Ness said.
The Buffalo History Museum Library is interested in collecting more Anchor Bar menus, placemats, matchbooks, receipts, and personal photos. Further inquiries can be directed to library@buffalohistory.org.
Other Posts